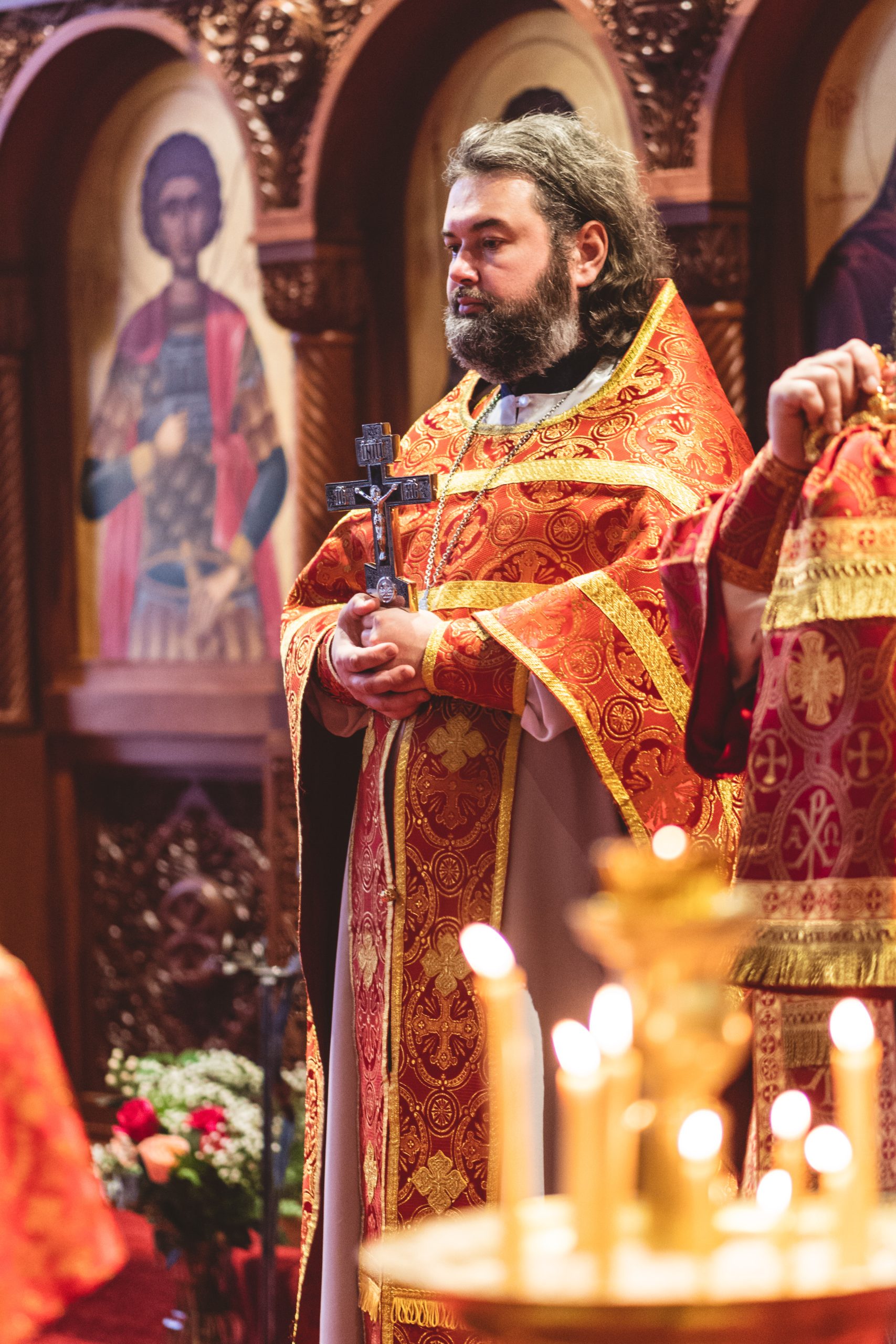 Priest Sergiy (Kosov)
Rector
Father Sergiy Kosov (Kosov Sergey Alexandrovich) was born on June 25, 1982, in the City of Moscow, Russia, and baptized on July 5, 1982, at the Dormition Church in the Veshnyaki area of Moscow. His name day is July 18 (memory of St. Sergius of Radonezh).
Father Sergiy spent his childhood in Moscow, except every summer he spent with his grandparents in the rural area, helping them in their difficult village life.
From his paternal grandmother Vera, Fr. Sergiy heard his first prayers, and his first prayer was also with her.
While studying in the public school system in Moscow, he met his future wife.
After completing high school, he was accepted to Moscow State Pedagogical University, where he later successfully graduated with a professional degree in physical and military training and was awarded the military rank of Lieutenant.
From 2004 to 2006, Father Sergiy served in the armed forces.
After returning to civilian life, Father Sergiy began his path of conscious churching.
He found his spiritual father—Hieroschemonk Theodosius Elfimov, a resident of St. Michael-Athos Zakuban hermitage in the Republic of Adygea.
Under his guidance, future Fr. Sergiy started to help and carry out obediences in the churches at the monastery mentioned above, as well as in the metochion of the Patriarch of Moscow and all Russia—the Church of the Transfiguration of the Saviour in Peredelkino (Moscow).
In 2011, he married his wife in church (she is also a spiritual child of Hieroschemonk Theodosius), and the following year with the blessing of his spiritual father, he entered Holy Trinity Seminary in Jordanville, NY. In April 2013 and January 2015, sons Naum and Savva were born; in January 2018, a daughter Pelagia was born.
On May 29, 2016, by Metropolitan Hilarion of Eastern America and New York, the first Hierarch of the Russian Church Abroad, Father Sergiy has ordained a deacon and assigned to Holy Trinity Monastery in Jordanville, NY.
In 2017, he graduated from the Holy Trinity Seminary in Jordanville with a bachelor's degree in Divinity. During his studies at the Seminary, he carried out obedience in the monastery's icon-mounting workshop.
On January 9, 2018, he was ordained a priest by Bishop Nicholas of Manhattan and assigned to Holy Trinity Monastery in Jordanville, NY.
On August 12, 2018, Metropolitan Hilarion of Eastern America and New York appointed him as the St. Joseph of Optina church rector in Virginia Beach, Virginia.
Previous
Next