Panikhida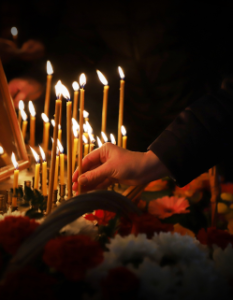 Panikhida-are special prayer services offered for the benefit of the departed.
In the Orthodox Church, the various prayers for the departed have their purpose to pray for the repose of the departed, to comfort the living, and to remind those who remain behind of their own mortality and the brevity of this earthly life. For this reason, memorial services have an air of
They tend to be served more frequently during the four fasting seasons (Great Lent, Nativity Fast, Fast, and Dormition Fast).
For all questions, you can personally contact the rector, Father Sergiy.
Contact information:
• Phone: (757)515-8442
• Email address: frsergiy@russianchurchvb.org
The recommended donation for the panikhida is $25.
Make a donation: